Biographies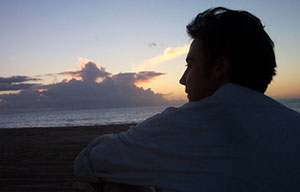 Matthew Marshall
With a background working in the public, private, and non-profit sectors, Matthew has developed skills in project development, evaluation, and management; working with diverse stakeholder groups to find collective solutions; design, research, and analysis; and business administration. He has extensive experience in sustainable development, ecological design, renewable energy, marketing and communication, graphic design, education, non-profit development and management, and community economic development.
Matthew currently serves on the Board of Directors of the Center for Environmental Economic Development and the Humboldt Bay Center for Sustainable Living. He is also a partner in Evolution Energy Systems, the energy technology design and consulting team who was awarded the grand prize in the 2005 National Hydrogen Association's international competition for the design of a hydrogen power park. That design project grew into the construction of a hydrogen fueling station at the Humboldt State University (HSU) campus--a collaborative effort with HSU, Chevron Technology Ventures, the California Hydrogen Highway, and the California Department of Transportation.
Previously, Matthew has served on the Board of the Humboldt North Coast Land Trust; and was employed as a Program Specialist by the Redwood Coast Energy Authority, a JPA of local governments created to develop and implement sustainable energy initiatives that reduce energy demand, increase energy efficiency, and advance the use of clean, efficient, and renewable resources available in Humboldt County, CA. As a Program Associate at the Center for Environmental Economic Development from 2001-2006, Matthew worked on numerous, diverse projects relating to sustainable economic development, ecological restoration, and climate change, including the Humboldt County General Plan 2025 Energy Element. From 2001-2005 Matthew shared his love of science, math, and art while working as a public high school teacher.
Matthew is also a bagpiper and a professional artist, who has been honored with six major regional exhibitions and won awards for sculpture, drawing, ceramic, painting, and printmaking. He has a BA in Studio Art, and has completed his coursework for a MS in International Development Technology.
Marc Marshall
With a degree in physics and more than a decade of experience in alternative energy research and development, Marc combines a scientific background with real-world experience building everything from office networks to embedded fuel cell control systems. He has worked extensively on development and implementation of National Instruments LabVIEW-based control systems, both in the lab--automated fuel cell test bench systems--and in real-world energy generation systems--stand-alone fuel cell generators and a demonstration solar-hydrogen generation system.
Having been involved in every stage of the design and construction of public demonstration systems for experimental technologies, Marc has unique experience in simplifying complex new technologies for presentation to, and use by, the general public.
Additionally, Marc has been involved in the creation and maintenance of websites since the mid-90s. He has extensive experience writing clean, standards-compliant, accessible markup in HTML, XHTML, and CSS, as well as the day-to-day operation and maintenance of a variety of websites in a variety of server environments. He also has experience in web-based marketing and promotion.
Marc also has a wealth of nontechnical experience to offer, most notably conversational-level Japanese language skills, a great deal of experience dealing with Japanese culture and social customs, and professional experience in subtitling and document translation. Working with his wife, Akemi, he is capable of native-level Japanese-English and English-Japanese translation. He has experience as a videographer and video editor, a tutor of a variety of subjects, and presenting environmental and alternative energy information to non-technical audiences.